Why hide it – those of you that know me by now also know I'm a bit of a fan of Elon Musk and his company's approach to product development. But is anyone coming close to competing with the consistently class-leading work of Tesla in the automotive arena?
What sets Tesla apart from their competitors? There are honestly so many areas, but I think the main one is how the company leverages its appeal to a innovative, tech-savvy consumer. This appeal is driven by its founder's transparent approach to social media and genuine concern for the environment (bringing him near tears in a recent interview), as well as an innovative sales model that has driven the recent move towards online car sales (which once seemed very unlikely, didn't it!).
Owning the conversation on social media
Elon Musk is an influencer, prolific and – perhaps most importantly – pretty much always available on social media, unlike many other similar CEOs.
With over 26 million followers on Twitter alone, he makes rapid decisions, openly shares brand new product ideas and also – really interestingly – also happily changes his mind openly, publicly and in real time, rather than behind the normally closed doors of the boardroom.
However, this approach doesn't always work – for example memorably in October 2018, when a 'misleading' tweet about potentially taking Tesla private landed Musk with a $40 million fine and loss of his chairmanship for three years (and a lawyer will be checking his Tesla-related tweets for the foreseeable).
But however occasionally ill-judged (or not – maybe there was no accident at all!) Musk's social media posts certainly keep him in the public eye – and his popularity continues to grow alongside his brands.
So what else sets Tesla apart?
Superior customer-first functionality
Tesla's futuristic Autopilot feature already allows drivers to optimise their route, match their speed to traffic conditions, keep within a lane, automatically change lanes, transition from one road to another and exit at their destination. It also allows itself to self-park when near a parking spot and allows the car to be summoned to and from your garage. Competitors such as Audi, Mercedes and BMW are catching up for sure, but Tesla always seems to be one step ahead.
The cars are even arguably built to be ready for a future where full self-driving becomes a reality. They are capable of receiving software upgrades via the cloud to keep up with new technology – with no need for a visit to the garage – something competitors simply can't match.
Tesla does things differently
Tesla has long been compared with Apple as a key example of being an industry disruptor – ARK investment management analysts make the point that Tesla "resembles Apple in three key areas: a strategy of vertical integration, an imminent product inflection, and a business model transitioning from hardware to services."
In early March 2019 Tesla also announced it was cutting car prices by shutting most of its innovative stores (a model that sees its cars in unique shopping locations such as malls) and moving to mainly online sales. The move will see the starting price of the Model 3 fall from $42,900 to $35,000 and lower all vehicle prices by an average of 6%.
But it remains to be seen if the move will be a shrewd one, with the company's shares falling nearly 6% the day of the announcement. Audi are also piloting a similar strategy with their E-Tron model, which isn't available for test drive, only online order. With Audi a key competitor for Tesla in many eyes, it will be interesting to see what innovation this pushes out of Tesla.
Continuing accelerated growth
When Tesla overtook both Ford and GM in April 2017 to become America's most valuable car company, it was widely considered to be an indicator of the upcoming market shift away from human-driven, petrol-powered cars and towards software-driven electric vehicles. Tesla continues to be the top selling luxury vehicle brand in the United States, with the company enjoying a 35% market share in September 2018, 20% higher than Mercedes-Benz, their nearest competitor.
Rapid, customer led innovation
Would your CEO personally respond to a customer complaint via a tweet? Elon Musk repeatedly demonstrates the industry benchmark way to respond – and in one of his finest examples to date, turned a customer complaint into a great product innovation. However what made this really special was the way he took it from customer idea to execution within just six days (yes, days, not months!). It began when Twitter user Loic Le Meur first tweeted Elon Musk about the overuse of a Tesla supercharger point in San Mateo, California. @loic said:
"@elonmusk the San Mateo supercharger is always full with idiots who leave their tesla for hours even if already charged."

Musk responded to his tweet within minutes, acknowledging the issue and and promising to take action:
"You're right, this is becoming an issue. Supercharger spots are meant for charging, not parking. Will take action."
However what no-one could have foreseen (even considering Tesla's rapid pace of innovation) was that only six days later Tesla announced a new policy: the company's mobile app will now alert customers once their car's charge is nearly complete, and for every additional minute a car remains connected to the Supercharger, it will not incur a $0.40 idle fee, unless the car is moved within five minutes. Tesla moved at an incredible pace on this, which I'm sure was no mean feat to deliver in practice – however easy they made it appear.
Personal customer service
Musk is also happy to oblige anyone and everyone that needs it with product advice. A recent acknowledgement of singer/songwriter Sheryl Crow saw Elon Musk give Tesla advice when she got stuck in a parking lot – despite seemingly being en route to a Manhattan federal court (facing off with federal regulators over another tweet from August Musk tweeted he 'could' take Tesla private at $420 a share and had secured funding… the SEC argued the tweet constituted securities fraud… ). She tweeted to her 320,000 followers that she was stuck in her Tesla with a black screen, and asked if anyone knew how to fix it, using the hashtag #stuckinaparkinglot. Fear not Sheryl, Musk was straight on it:
"Change your screen preference from night mode to auto. Night mode with 0% brightness is actually too dark during the day. This is ultimately our fault. We will update our software so that 0% brightness is always usable relative to ambient conditions."

Another self effacing and honest acceptance of an issue and a future product upgrade idea – but it did not end there. After fixing the issue, Crow then took the opportunity to suggest a product improvement idea if her own:
"Might I suggest adding some screen controls to the app so that you're not stuck when the screen goes black?"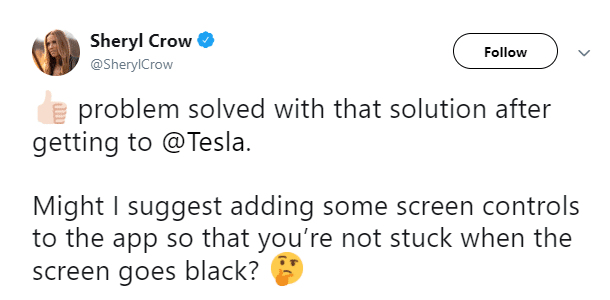 Musk was typically accepting:
"Totally agree. Tesla phone app should have all controls that car center screen has, so your phone can serve as a complete backup."

It doesn't end there. In recent weeks Musk has taken on board suggestions around a "fake" Sentry Mode screen, poor customer experience and pushy sales people, and programming the Tesla to move back the seat and raise the steering wheel while in park.
Highlighting competitors for the greater good
Musk took handling competitor activity to another level in November 2018 when he personally highlighted a list of alternatives to Tesla electric cars, stating, "If you don't want a Tesla, here's a list of all electric cars in North America…"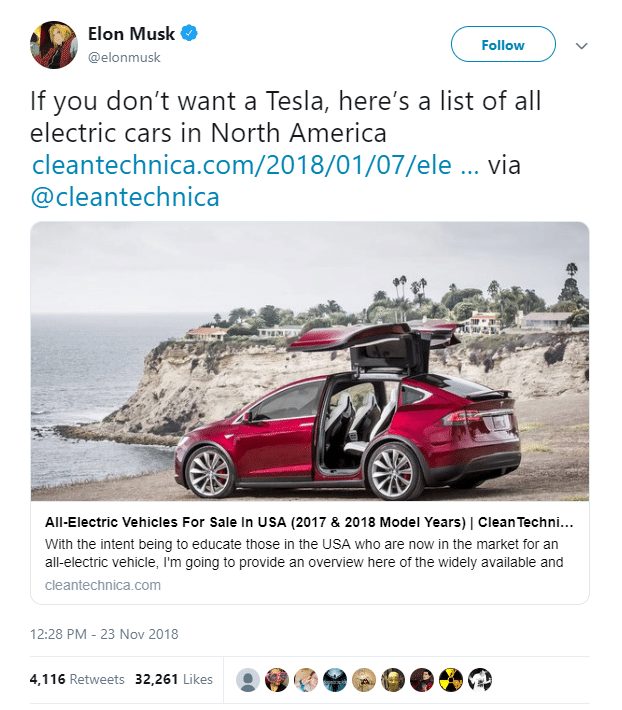 How many other CEOs would have this level of conviction and confidence in their product?
Stealing the limelight – and then market share
Tesla competitors made a big splash at the Geneva Motor Show in 2018, one of the biggest showcases of electric vehicles ever. Porsche, Audi, BMW, Jaguar, and Hyundai all promoted all-electric or hybrid cars, making commentators wonder what the future holds for Tesla as the big player in this space. But instead of fighting for market share, Tesla went from strength to strength in 2018. By the end of the year, their Model 3 was the best-selling electric vehicle in the world.
Tesla are ahead of the game here, with many of their competitors' models still in production, facing delays, not appearing in showrooms or failing to keep up with demand. But many of these new contenders are due to go on sale between 2021 and 2024. If and when they do, Tesla could face a challenge to their market dominance.
Electric car competition is definitely heating up, and the fact that so many new models are being put into production indicates that Tesla needs to work hard to continue to come out on top.
Musk is also forging ahead with self drive technology, announcing plans to have more than a million fully self driving Teslas on the roads by 2020. Tesla Autopilot software has been deployed in some vehicles since 2015, and their team are currently training an artificial intelligence system to understand what's happening on the road by using camera images.
Tesla is bucking the the industry trend here, with competitors investing in LIDAR sensors which Tesla believes to be inferior to the state-of-the-art system they are developing.
"It's unbelievable technologically," said Bryan Reimer, research scientist in the MIT AgeLab and associate director of the New England University Transportation Center at MIT. "I don't think anyone else in the industry is capable of doing that in near real-time."
So, what are the top 5 Ways Elon Musk & Tesla are winning?
I'd summarise them as follows:
Rapid innovation: days, not weeks and months.
Listening to customer feedback – and doing something about it.
Admitting when they're wrong – and committing to do something about it.
Seeing the bigger picture: putting the mission of the company before commercial success.
Getting (way) ahead of their competitors: keeping the pressure on with constant innovation.
Hope this was useful. I would love to know your thoughts, so leave me a comment and a like if you enjoyed this. You can also find me on social media @DrGeraintEvans_.